This isn't what I expected. I thought blogging would begin in a lonely way. I thought I'd have no followers for weeks (or months) until someone "discovered" my humble ramblings. I thought I'd be writing to an audience of none for a while.
Boy was I wrong! Day 1 I got my first follower, who's now my sweet friend Sharon at Elizabeth & Co! We've chatted almost every day.
Just two weeks later, I've got 45 followers! I had hoped I'd get there one day, but in two weeks?? I'm just amazed!
Today, I found out that Maria at The Rusty Hinge, awarded me the

Liebster

Award! Shut up!! Doesn't she know I don't have a clue about what I'm doing??
Liebster is German and means 'dearest' or 'beloved' but it can also mean 'favorite'. The idea of the Liebster award is to bring attention to blogs with less than 200 followers. I'll be paying it forward in the next few days.
Not only that, I've been featured five times in the last two weeks! Really? Just amazed! Thanks to these great bloggers who showered some love on me!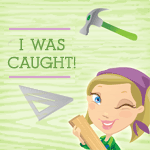 Now if I can only figure out how to make these buttons line up nicely!